Our Powerful Six Pillar
Marketing Packages
Unleash the Full Potential of Your Small Business
A Limited-time, Special Offer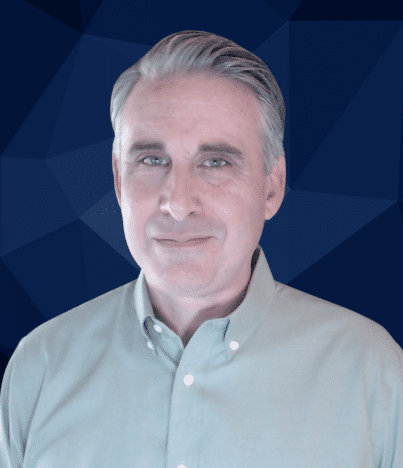 Hey there,
Are you feeling stuck trying to attract new customers and grow your small business?
Fed up with pouring time and money into the latest marketing trends that just aren't cutting it?
Well, it's time to kick stagnation, uncertainty, and failed growth attempts to the curb.
Say hello to the Six Pillar Marketing Package – your secret weapon to amp up your marketing game and send your small business soaring to new heights!
To your success,
Ahryn Scott
Founder of Web Video Ad Space

Fasten Your Seatbelts: Marketing Magic Awaits!
Get ready for…
Profitable Ad Campaigns
1000's of New List Subscribers
Incoming Phone Leads
Quote, Estimate & Proposal Requests
& More….
Buckle up and get ready to be blown away by what's coming next.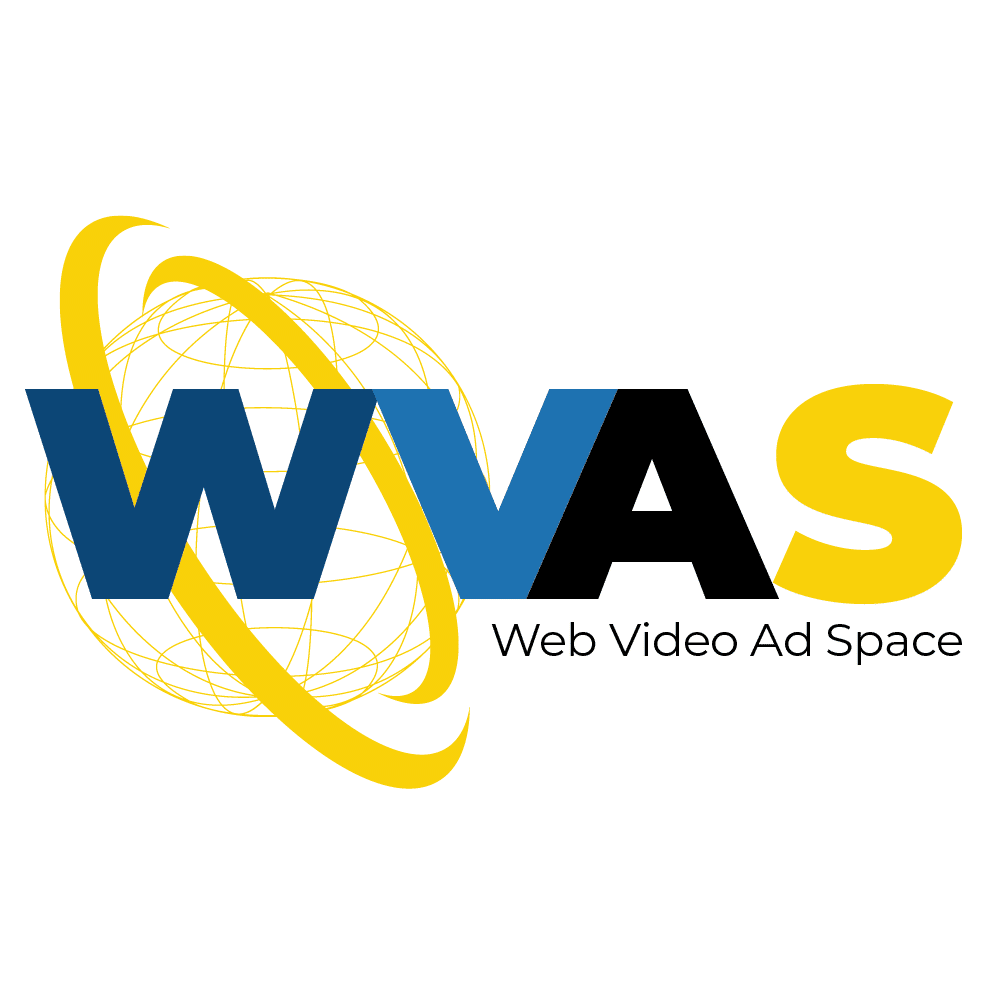 Why Let Your Small Business Shine with Web Video Ad Space?
We have been helping local businesses profit online since 2009

Over $1 million spent on advertising for small businesses 

We have created hundreds of small business websites
With Me, Small Business is Personal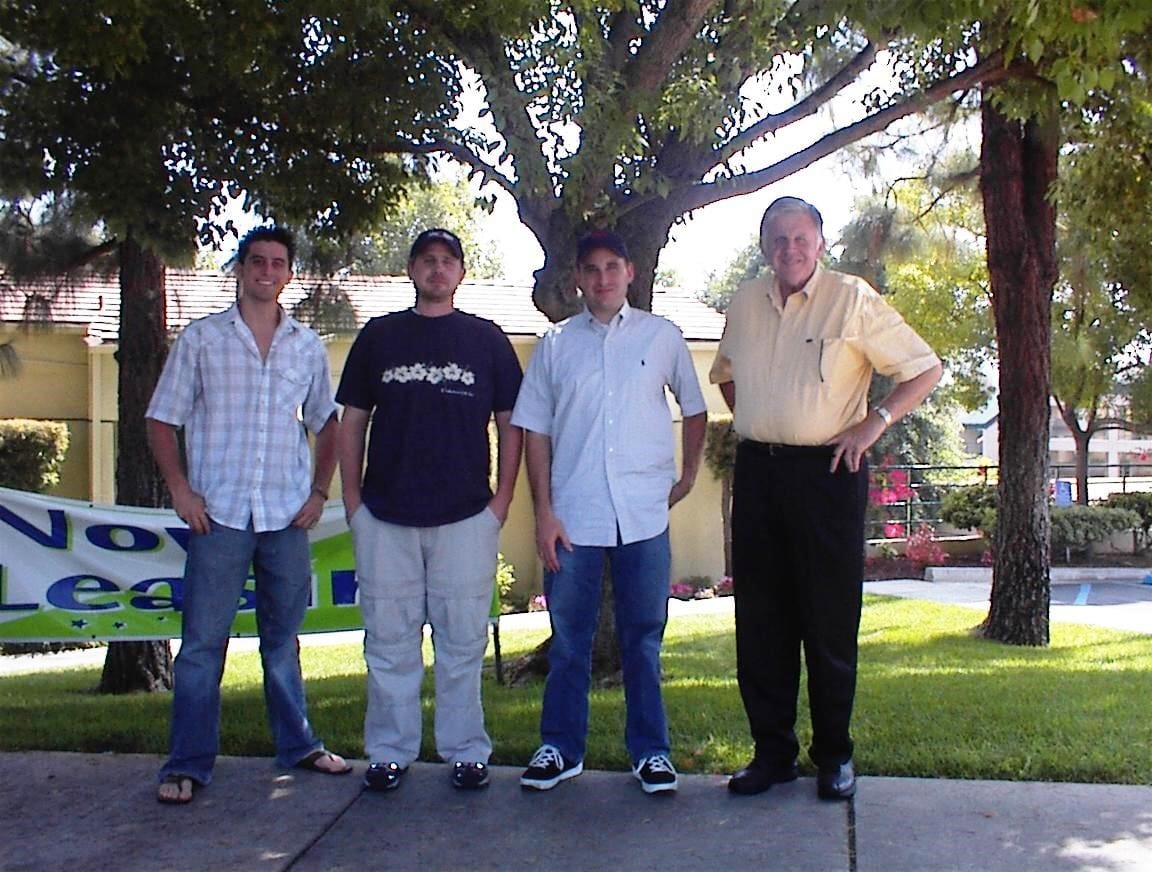 Growing up, I worked in my family's small business. 

Nearly every one of my clients have been family owned businesses.

Now it's my passion to help small businesses tap into the power of digital marketing to boost revenue and profits.
Do you recognize this struggle?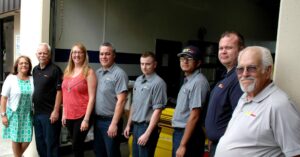 GT Imports, a family owned auto service business, were struggling to keep up with the lightning-fast changes in the marketing world.
Back in 2008, they were using old-school marketing methods like mailers and Yellow Pages ads, but they just weren't cutting it anymore.
Dealerships are serious competition
As an independent service shop, GT Imports was swimming with sharks. 
The family knew they had to switch gears, but they didn't know where to begin. 
They knew they had to go head-to-head with those dealerships, but were in the dark about how to do it.
Not long after they teamed up with us.
Early Wins
We built them a website

We wrote SEO content

We made YouTube Videos

We built SEO links
And the results were… Amazing! See below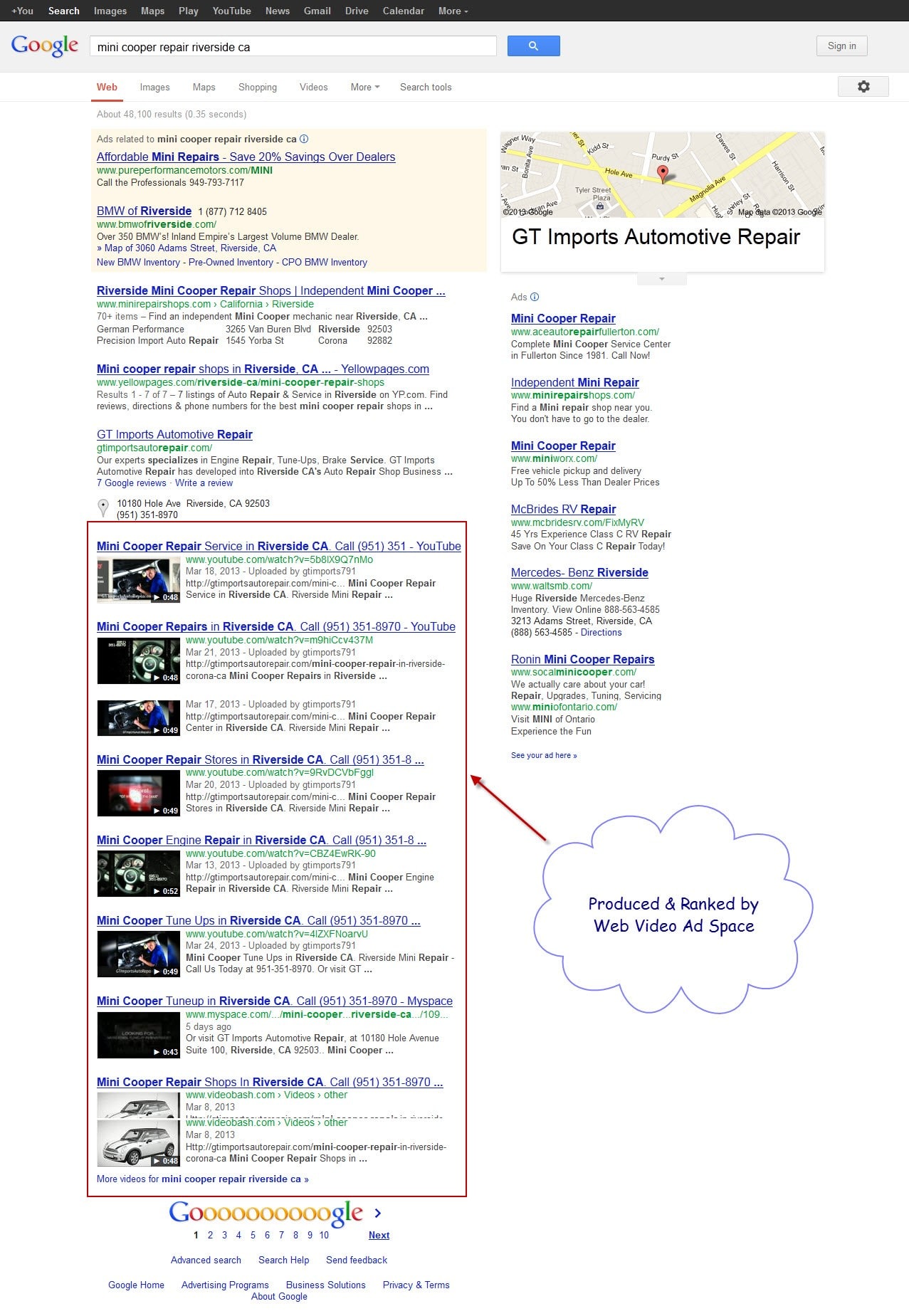 Chasing Tactics or Managing a Strategy
As you can see above we struck gold with video SEO. 
We dominated the whole first page of results! 
But… the digital marketing technology changes FAST.
And that tactic stopped working a LONG time ago. 
Chasing a tactic may produce great results… for a while. 
And when it fails, you have to start over from scratch.
You Can't Depend on Tactics Alone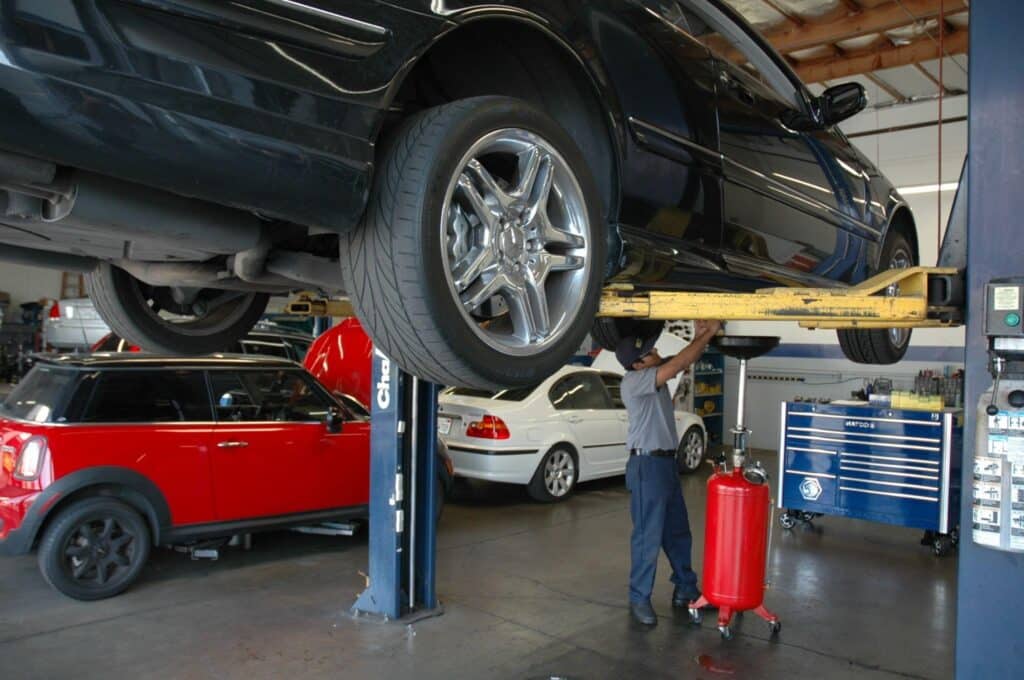 Google shook things up with their Panda and Penguin algorithm updates. 
After these updates, dominating search results like we had been able to do was no longer possible.
This was our a-ha moment!
We needed a plan to adapt to the ever-shifting online landscape.
It led us to develop a complete marketing strategy that we could implement with a plan. 
And that's how we paved the way for GT Imports' amazing transformation.
GT Imports Goes All-In on the Six Pillar Marketing Plan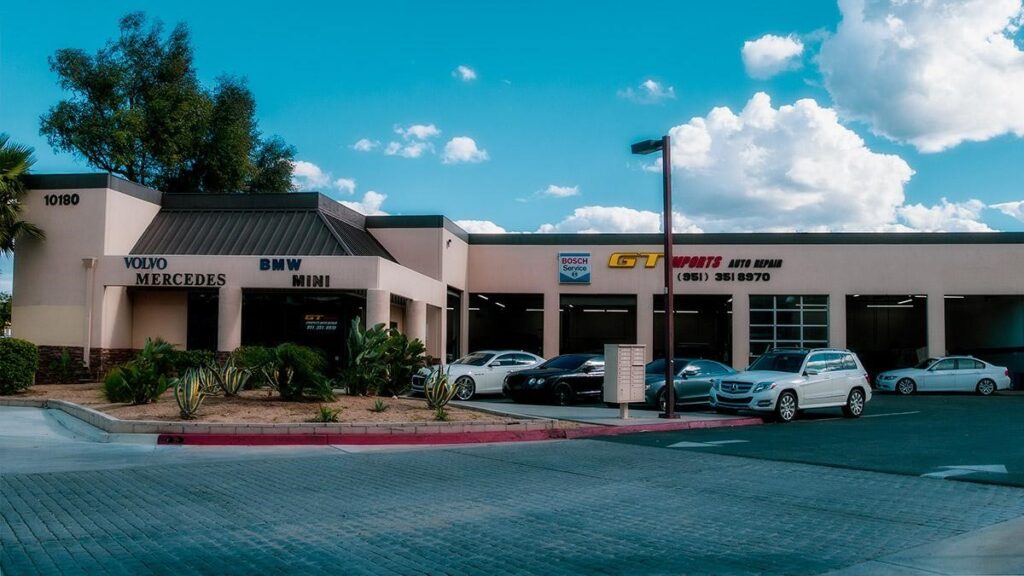 Like all small businesses, they needed a flexible strategy that could roll with the punches in the ever-changing digital landscape.
Their shining moment arrived when they went all-in on the Six Pillar Marketing Plan.
GT Imports turned the tables in no time, seeing a jaw-dropping sales growth of over 40% in just a few months.
Adopting a strategy that covered all the must-haves of digital marketing allowed them to make sure that no key principle (or pillar) was left out.
As a result, GT Imports saw a huge surge in online visibility, customer acquisition, and overall growth, proving just how transformative a complete marketing plan can be.
Unveiling the Secrets of a Killer Marketing Strategy
These Six Pillars are the bedrock of a successful marketing plan, making sure all your efforts are in sync and aimed at smashing your business goals.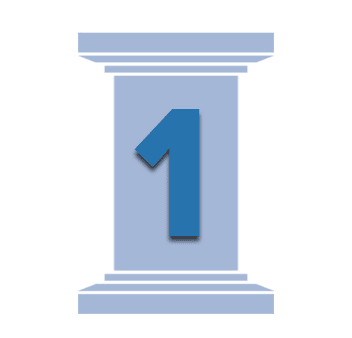 Pillar 1: Target Audience
By getting to know your target audience, you can fine-tune your marketing moves to vibe with them and tackle their specific wants and needs.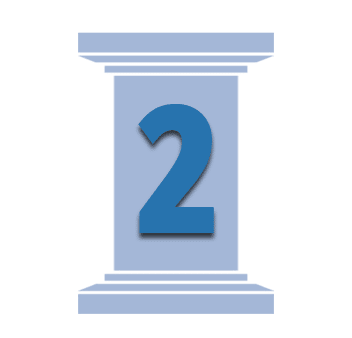 Pillar 2: Messaging
This pillar is all about addressing problems, solutions, authority, objections, and cooking up an elevator pitch. Solid messaging is key to building trust and credibility with your crowd.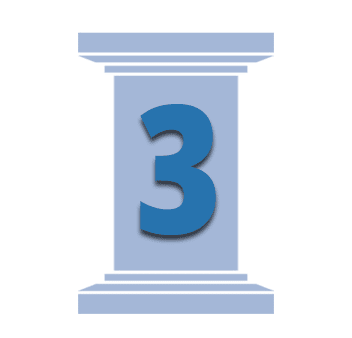 Pillar 3: Media
The media you create should guide your audience through each stage of the marketing funnel, ultimately leading to conversions.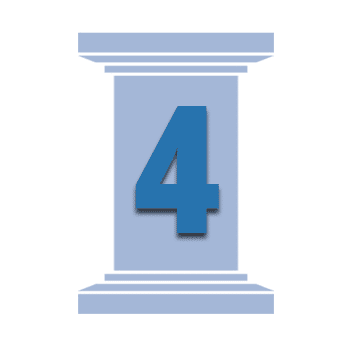 Pillar 4: Lead Capture
Spot-on lead capture makes sure you've got a neat and tidy database of potential customers to nurture and convert.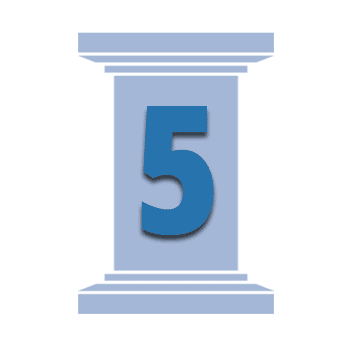 Pillar 5: Follow Up
By keeping in touch with your leads, you boost the odds of turning them into customers.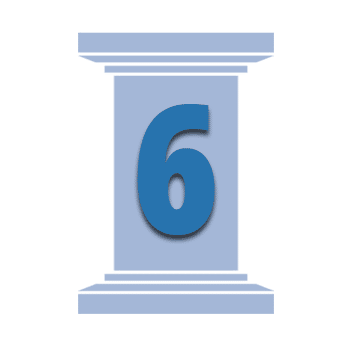 Pillar 6: Conversions, Tracking, & Analytics
Turn prospects into paying customers using various conversion methods, such as online transactions, phone calls, in-person meetings, and video conference meetings.
Plug the Holes in Your Online Marketing!
By tackling each of these Six Pillars in your marketing plan, you'll whip up a well-rounded and complete strategy that covers all aspects of the customer journey. 
Now, let's dive into how the Six Pillar Marketing Package can help you implement a profitable marketing plan.
How We Implement the Six Pillar Marketing Plan?
This comprehensive approach makes sure all your marketing moves work together seamlessly, resulting in a powerful online presence and a booming business.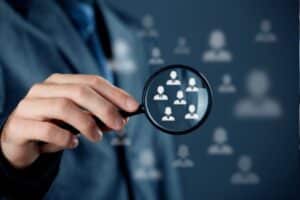 1. Finding Your Target Audience
Exploring Your Niche
Competitor Analysis
Crafting Client Personas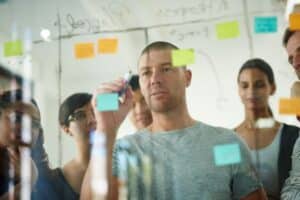 2. Fine-Tuning Your Messaging
Addressing Problems and Solutions
Overcoming Objections
Showcasing Testimonials and Values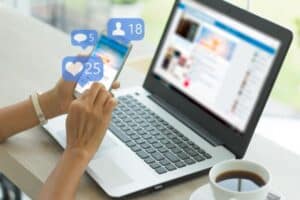 3. Creating Engaging Media
Eye-catching Ads and Content
Guiding Your Audience Through the Funnel
Top, Middle, and Bottom of the Funnel Content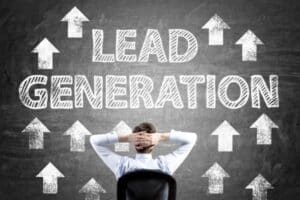 4. Effective Lead Capture
Setting Up Forms, Calls, and SMS Options
Organizing Leads in an Efficient System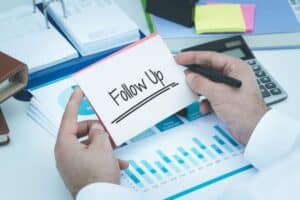 5. Follow-up Game Plan
Engaging Leads through Email, Calls, SMS, and Retargeting Ads
Nurturing Prospects through the Funnel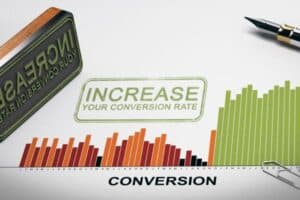 6. Focusing on Conversions
Maximizing Conversion Methods
Reaching Your Audience at Every Stage
By putting the Six Pillar Marketing Package into action, your local service business will enjoy a complete and well-rounded marketing strategy that drives growth and success.
What you get with the Six Pillar Marketing Packages
The Six Pillar Marketing Package offers an all-inclusive, tailored solution for your small business. In addition to the standard services, we're including some extra goodies to maximize the value of the package and minimize the cost. Stay tuned to find out more…
Email Newletters or Broadcasts
Integrate with existing CMS
Native Ad Channel Lead Forms
Call Tracking (Dynamic Number Insertion)
Automated Email Follow Up Sequences
One-on-One Consulting/Reporting
Email Newletters or Broadcasts
Integrate with existing CMS
Native Ad Channel Lead Forms
Call Tracking (Dynamic Number Insertion)
Automated Email Follow Up Sequences
One-on-One Consulting/ Reporting
Email Newletters or Broadcasts
Integrate with existing CMS
Native Ad Channel Lead Forms
Call Tracking (Dynamic Number Insertion)
Automated Email Follow Up Sequences
One-on-One Consulting/ Reporting
Email Newletters or Broadcasts
Integrate with existing CMS
Native Ad Channel Lead Forms
Call Tracking (Dynamic Number Insertion)
Automated Email Follow Up Sequences
One-on-One Consulting/ Reporting
Typical Monthly Budget (including fees and ad spend)
Starts for as little as $1,000 per month, use button below to get customized quote.
The Value of the Six Pillars
When you think about the full range of services and the potential for massive growth, the Six Pillar Marketing Package is a smart move for your business's future.
Value in Bundling Services
Let's talk about the price of our Six Pillar Marketing Package. It's important to remember the huge value you're getting by bundling all these services together. If you were to head out and try to outsource each part of the package on your own, you'd end up with a way higher monthly bill.
The Price of Outsourcing Each Pillar Separately
To give you a ballpark figure, let's break down the average monthly fees for each of the Six Pillars if you were to outsource them one by one:
Target Audience research and analysis
Messaging development and strategy
Media creation and distribution
Lead Capture setup and management
Follow Up strategy and implementation
Based on these industry averages, you'd be looking at a total monthly cost of around $5,500 to $14,000 if you were to outsource each of these services separately. This doesn't even include the time and effort you'd need to manage multiple vendors and coordinate all their work.
The Advantage of Our Six Pillar Marketing Package
All services under one roof
Fraction of the cost compared to outsourcing separately
Top-notch expertise and quality without the high price tag
Our Six Pillar Marketing Package, though, brings all these services together for a fraction of the cost. By putting everything under one roof, we can offer you a comprehensive marketing solution that not only saves you money but also makes the whole process a breeze. In other words, you get top-notch expertise and quality without the sky-high price tag usually attached to such services.
Not a One-Size-Fits-All Package
Before we jump into the special bonus, let's make sure we're clear on what this package is all about and who it's meant for… and who it's not meant for.
Who It's For and Who It's Not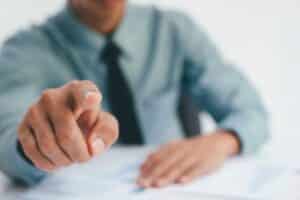 The Six Pillar Marketing Package isn't a one-size-fits-all deal; it's customized just for small, local brick and mortar businesses that want to make a huge splash. 
It's perfect for those who want a well-organized, complete marketing plan, and it's not for anyone looking for a fast, short-term solution.
The problem with Short-Term Solutions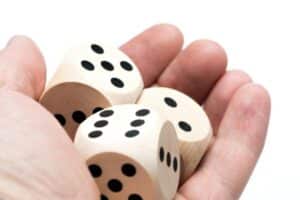 You see, the thing about fast, short-term solutions is that they're usually based on the hope that one or two trendy tactics will be the saving grace for your business. 
It's like taking a gamble and crossing your fingers that it's going to work out.
The problem with this approach is that trendy tactics often lose their effectiveness over time or become outdated as the digital landscape shifts. 
Relying on them can leave you scrambling to catch up when they inevitably fizzle out. And let's be honest, constantly chasing the next big thing is exhausting, and it's not a sustainable way to grow your business in the long run.
The Six Pillar Marketing Package Difference
That's why the Six Pillar Marketing Package is focused on a comprehensive, long-term strategy that covers all the bases. 
Instead of betting on a single tactic or trend, it ensures that your marketing plan is well-rounded and adaptable to the ever-changing online environment. That way, your business can achieve lasting success, not just a flash in the pan.
A $1,200 Bonus for Your Business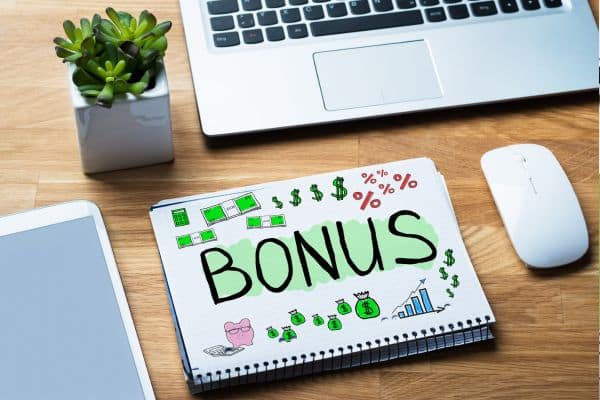 As a special bonus, we wanna make sure you've got everything you need to face your marketing challenges head-on, no matter which direction you decide to take.
So, when you jump on board with our Six Pillar Marketing Package, we'll throw in a custom-written Six Pillar Marketing Plan made just for your business – a service worth $1,200.
Your Go-To Marketing Guide
Manage your marketing game effectively
Works with our package or other strategies
Provides a solid foundation and clear path
This all-inclusive plan will be your go-to guide for managing your marketing game, whether you stick with us or try out different strategies. Our aim is to give you a solid foundation and a clear path to follow, so you can confidently ride the waves of the ever-changing digital marketing world.
Our Commitment to Your Success
By offering this awesome $1,200 bonus, we're showing you just how committed we are to your success, and we're giving you the tools and know-how you need to stand out and succeed in today's competitive biz environment.
An Affordable Marketing Package for Every Budget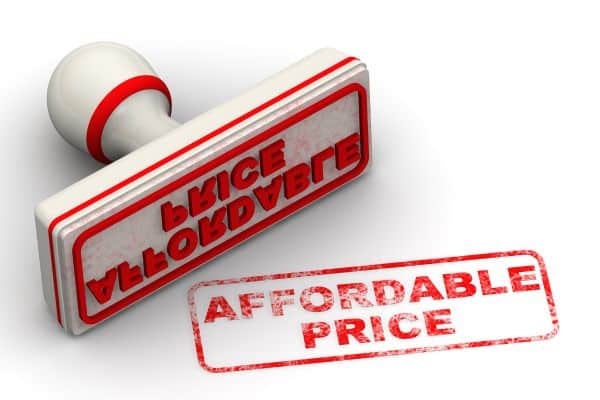 Now, I bet you're curious about how much it'll cost to get started with our Six Pillar Marketing Package. 
The awesome news is that we've made our pricing super accessible for small businesses like yours. 
In fact, typical monthly budgets, which include both our fees and ad spend, can start at just $1,000 per month.
To get a personalized quote based on your unique needs and goals, all you've gotta do is click the button below, and we'll hook you up with a customized proposal made just for your biz.
GET CUSTOM QUOTE
Take that first step towards transforming your marketing game and reaping the rewards of a well-rounded, strategic approach. 
Don't miss out on this amazing chance to amp up your business's online presence and drive growth like never before.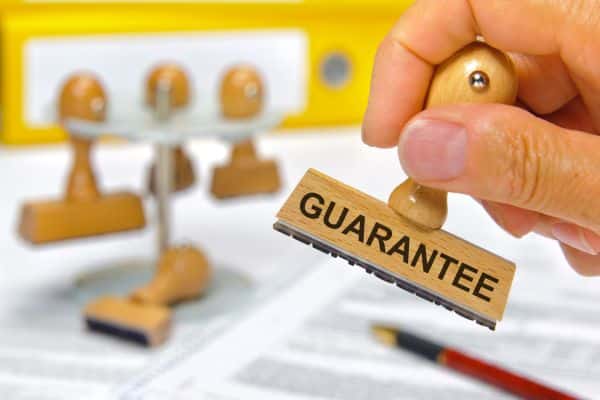 We're extremely confident in the power of our Six Pillar Marketing Package and the positive impact it can have on your business, so much that we're ready to stand behind our work with a solid guarantee. 
If, after four months, you're not entirely satisfied with the results, we'll do more than just part ways on friendly terms. 
In fact, we'll let you keep your brand-new website and even include one year of free hosting as a gesture of goodwill.
Our ultimate goal is to see your business succeed, and we're willing to put our money where our mouth is. 
This guarantee ensures that you can move forward with confidence, knowing that you're making a smart investment in the growth and prosperity of your small business.
Get in While You Can: Our Unbeatable Six Pillar Marketing Package Offer Won't Last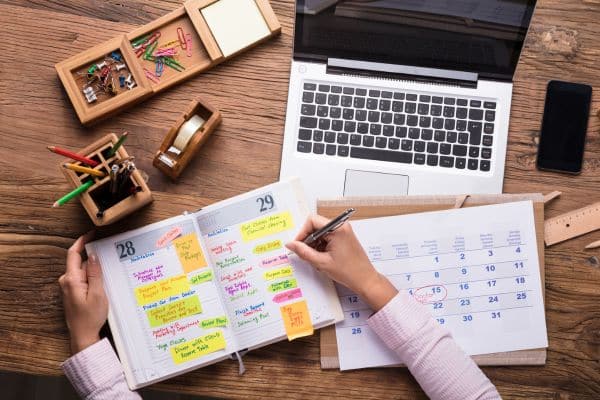 I want to share something with you: the fantastic pricing and bonus offer we've discussed for our Six Pillar Marketing Package won't be available indefinitely.
As a growing company ourselves, we currently have some extra capacity to take on a few more accounts at these amazing prices. However, this window of opportunity won't stay open forever.
As we keep expanding, it's just a matter of time before our capacity fills up, and we'll have to adjust our pricing to accommodate the increasing demand for our services. 
So, if you're genuinely interested in transforming your small business and taking advantage of our comprehensive marketing package, now is the time to make a move. 
Don't miss out on this unique opportunity to benefit from our expertise and dedication to your success at such an unbeatable price.
Change Your Game: Book an Intro Call for Your Customized Six Pillar Marketing Package
So, you might be wondering what the next step is to take advantage of our amazing Six Pillar Marketing Package. 
It's easy: just click the "Book Intro Call" button below to schedule a personal call with me. 
During this intro meeting, I'll provide you with a custom quote for your service package and help you figure out if the Six Pillar Marketing Package by Web Video Ad Space is the right choice for your business.
Your Best Chance to Manage Marketing
You know deep down that this is the solution you've been looking for. Trust your gut – you understand the potential this package holds for your business. 
It's time to step up and overcome any lingering doubts. Investing in the Six Pillar Marketing Package is a surefire way to boost your profits and achieve the success you've always wanted. 
So go ahead, click the "Book Intro Call" button now.
You Need a System Built for a Small Business Budget
It just makes sense to take advantage of this offer. If you're struggling with your marketing efforts, our comprehensive package can provide the solutions you need. 
Remember that our pricing won't stay this low forever, so act now to lock in these fantastic rates. With the added bonus content we're offering, it's a no-brainer. 
Don't wait – click the "Book Intro Call" button to secure your spot.
The Time to Act is Now
Lastly, think about the potential consequences of not taking action. Do you really want to stay stuck, uncertain, and unsuccessful? 
By not embracing the power of our Six Pillar Marketing Package, you're basically leaving Google Ads and other valuable marketing strategies untouched. 
Don't let your business become stagnant and risk losing customers to more innovative competitors. Take action now – click the "Book Intro Call" button and set yourself on the path to marketing success.